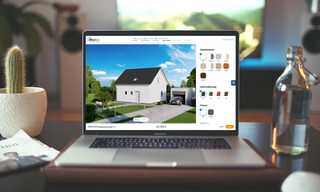 Apollohaus
Prefabricated house configurator
The startup APOLLOHAUS is the new provider of prefabricated houses. APOLLOHAUS' approach: The digitization of business processes was thought through to the end without compromise. From the first customer contact to the configuration of the prefabricated house to the signing of the contract, everything is fully digital. The company can pass on the costs saved in this way to its customers and thus has a clear competitive advantage.
It was clear from the start that a configurator that was child's play to use with high-quality and emotional product visualizations would be the central element in the sales process. kaliber5 then developed a prefabricated house configurator with which the interested party can select the house type and floor plan that suits them in several steps and then configure the facades individually.
In order to save time and money during development and to save loading time for the user, the 3D visualizations were split up into individual parts (such as the roof or the facade) and superimposed seamlessly in the configurator with the help of the kaliber5 Layer Engine. When changing the configuration, only the corresponding part of the visualization has to be reloaded.
The product import takes place via an interface that is individually adapted to the existing APOLLOHAUS system, with which APOLLOHAUS can now flexibly and independently maintain and expand not only the products and prices, but also the individual configuration options.
The leads gained via the configurator are forwarded to the APOLLOHAUS system in real time so that the interested party can be addressed immediately.
With the kaliber5 PDF Engine, the configurator creates a high-quality printable PDF synopsis for each configuration in real time, which can be made available to interested user immediately.