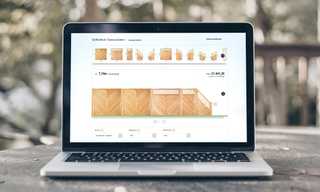 mein-gartenversand.de
Fence Configurator
MeinGartenversand.de is one of the old hands among online providers of fences and accessories. Many years of experience in this segment and the huge range of different fence systems have made the shop one of the top addresses for fences on the Internet. Many years ago they recognized the enormous advantages of configurators and developed a flash-based configurator that was very innovative for the time.

The introduction of HTML5 and the increasing lack of support for Flash made a completely new development of the configurator inevitable. kaliber5 was commissioned to replace the old Flash-based fence planner with a new, modern configurator. This should not only set new technical standards in the industry, but also score points in terms of usability and user experience and thus achieve maximum conversions.
Even users who are not very tech-savvy can now easily plan and order their own individual fence on desktop and tablet devices. The fence planner automatically calculates the accessories required so that the customer does not have to worry about the details (such as the number of screws).
A special highlight is the simple and intuitive drag'n'drop function, which enables the playful design of the fence and thus makes configuration an experience.
In an administration backend, MeinGartenversand.de employees can easily and conveniently manage their fence systems in categories. An import interface reads the fence elements from the Magento shop fully automatically and updates them daily in the configurator. The employees only have to maintain the product data at one central point.